Recycling is a team effort! It starts with the products you have used and changes them into something new. At Pinnacle Fiber we convert post-consumer PET bottle waste into recycled polyester staple fiber. We collect and sort PET bottle waste from all over Pakistan to manufacture high-quality raw-materials for textiles. Our fiber is shipped domestically and exported around the globe to produce environmentally-friendly apparels and home textiles. Recycled polyester consumes fewer resources, saves money, uses less energy and reduces pollution.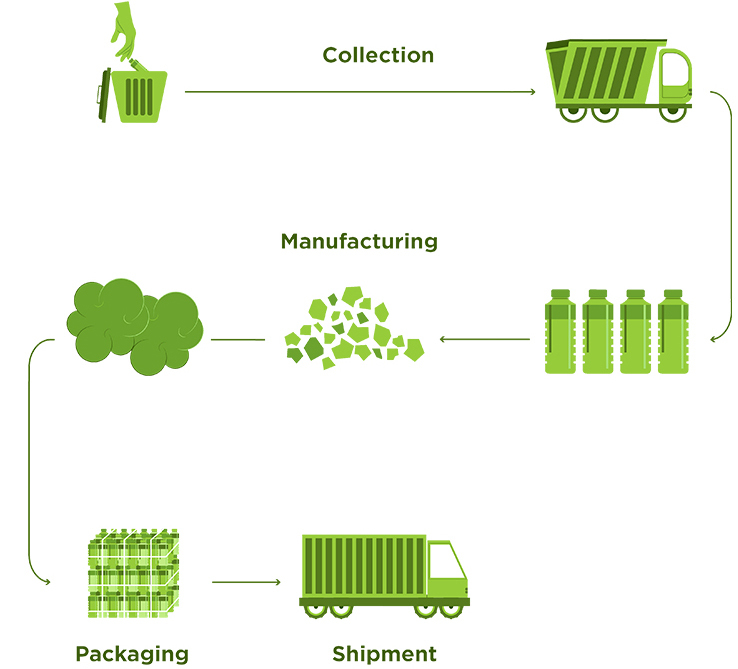 Pinnacle Fiber (Pvt.) Limited is a  polyester staple fiber (PSF) company. We specialize in a variety of PSF made from recycling 100% post-consumer PET bottles. Our products include textile-filling and yarn-spinning fibers.
With high-quality PSF and environmentally-friendly manufacturing, our clients have a distinct sustainable edge. We focus on consistent Research and Development and investing in talent and technology. Producing internationally-certified products setting us as leaders in the regenerative PSF industry in Pakistan.
Our fiber is used by industry giants around the world including vendors of IKEA, Target, Walmart and H&M to name a few.
Pinnacle Fiber Pvt. Ltd. is a leading name in regenerated polyester fiber industry in Pakistan.

Pinnacle Fiber is recycling billions of post-consumer PET bottle waste.

Our company becomes the first in Pakistan to become Ocean Bound Plastic certified.
We recycle the full bottle, labels, caps and rings.

We are increasing our collection sites all across the country.

Being fiber experts is what sets us apart.


Sustainability is our mission, we are a solar powered factory.